RAIPUR: Four days after the deadly Maoist ambush which led to the death of 22 security personnel in Bastar, the outlawed Communist Party of India (Maoist) on Tuesday confirmed the death of five of their own fighters, including a woman.
The Maoists urged the government to declare the names of mediators for negotiation for the release of a CRPF's elite CoBRA Commando, who was taken hostage during the encounter which took place in Bijapur district of tribal Bastar region in Chhattisgarh.
In a statement issued to the media, CPI (Maoist) Dandakaranya Special Zonal Committee spokesperson Vikalp released photographs of four of their dead comrades and revealed their names.
The Maoists confirmed that they could not take away the body of their woman comrade Odi Sunny, a member of Kistaram area South Bastar division company-1.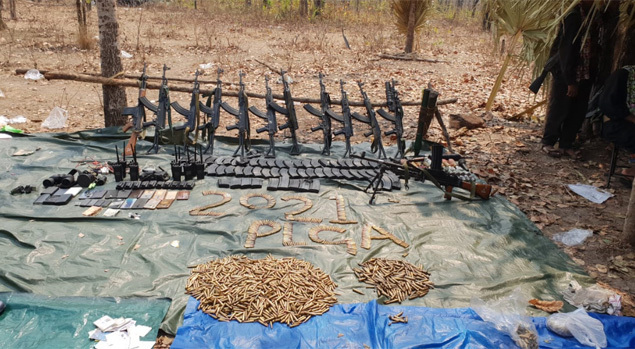 Maoists display weapons and cartridges recovered by them following the ambush on security forces
The others have been identified as Nupo Suresh, Kawasi Badru, Padam Lakhma, and Mandvi Sukka.
Confirming that a CRPF personnel was "captured" during the action, the Maoists said he would remain safe in their custody as a prisoner.
"The government must first announce the names of mediators. Then we will hand him over to the police," the release said.
The Maoists said their Peoples' Liberation Guerrilla Army (PLGA) fighters have also recovered 14 weapons, more than 2,000 cartridges and a few other materials after the attack on the security forces.
The rebels reiterated that the common police personnel were not their enemies but they were sent with weapons.
They also appealed to the people not to send their children to join the forces.
After Saturday's ambush, security forces have claimed that they had hit back at the rebels and had recovered the body of a slain woman Maoist.
The police have also claimed that they had inflicted more casualties on the rebel side and the Maoists had taken away the bodies of those who were killed in tractor trollies.